Reviews and photo gallery
Tristram Fink / Tristram Marine
" We had all our window joinery in our show room recoloured and protected by Nano-Clear. The impact has been a fresh new modern appearance, that added value to our site and overlook and feel to our premium brand. We would have no hesitation whatsoever in recommending the team at Nano-Clear. "
Daniel
Thank you for the lovely work you did on our joinery.
It pops!!!!
Mike - Auckland / Dec 2021
"I doubt that my garage doors looked this good when installed new. Very worthwhile."
by Allan Pond
Auckland // Dec 2021
" Thanks to Daniel and yourself for the great service. Luke did a awesome job.
We are very happy with the result.
We will certainly spread the good word about what you guys do. "
Steve - Hamilton / Oct 2021
"Loved the result thanks so much highly recommended"
L. Williams - Waikato / Oct 2021
Thanks so much to Daniel and his team.
Very professional and accommodating.
Extremely happy with the end result. The door looks brand new.
Will definitely recommend using Nano-Clear.

S Wilton - Hamilton // Oct 2021
"Daniel and Luke thank you for your professional work, you were wonderful people to work with."
"The result is just amazing, I keep walking around the house regularly admiring the windows and joinery, and cannot believe it came up so well after living with the residue from the house clean for a year."
by Annette M
Just had my garage door done. It's 18 years old and now looks like new !
Someone thought I got a new door !!! Highly recommend.
George was wonderful to deal with very professional through whole process . Will get my window frames done at some stage.
A McKernan - South Island
Feb 2021
"Really pleased with results achieved. My window frames weren't looking great, but after the Nano-Clear process, they look like new.
Thanks again, especially Luke, for all the hard work."
Trevor - Hamilton

January 2021
Thanks for a Great job!
Adrianne M
Hamilton
To Daniel and team,
Thank you so much for your amazing work, much appreciated.
Terra Cat
Fantastic Work. High Recommend. We are so happy with the end result.."
by Bryan W
Hamilton
June 24, 2020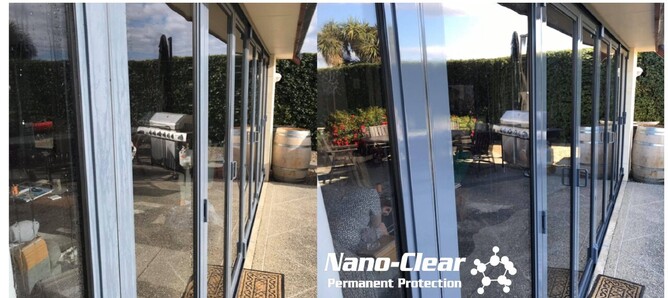 Nano-Clear product was extensively tested in the USA before coming to New Zealand in 2012 and then tested in the conditions here, out performing all other coating products on many tests including QUV resistance, salt fog, water immersion, pencil hardness and abrasion resistance.In a country where t...
read more
'Looks like New'
Very professional service and great result, the windows look like new.
MM - Hamilton
Dec 2020
Garage Door completed by our Wellington team
January 2021
So glad I got it done!
O.S - Hamilton
September 2020
It looks a lot better than I thought it would.
I am really happy with the result and very impressed by the team.
Thank you Daniel and Luke.
Eric / Dec 2020 / Hamilton
Case study: Retrofitting double glazing is a great way to improve the value of your home, it adds warmth and lowers energy costs, but once fitted you are left with an obvious colour difference between the new bead and the existing frames. This is where we helped. Nano-Clear has brought back the original colour to match the new installed bead.
5***** Rating
Added the finishing touch to our garage renovation!
Peter Were - Architect
Hamilton
Dec 2020
In 2019 we were approached by Nano-Clear to revitalise our blue joinery using the Nano-Clear Technology as it had faded due to sun damage. We requested a colour change as well as the tough Nano-Clear Clear Coating and we were extremely impressed by the 'Impeccable Service' and 'Attention to Detail' from the Nano-Clear / Waikato provided to Tristram Marine. We would recommend Nano-Clear / Waikato to anyone considering a Joinery Colour Change or for Oxidation Removal and Powder Coating Rejuvenation"
Kingsley Fink - Tristram Marine / Hamilton
Pictures do not do the product justice, so very happy with the final result, from the fantastic friendly and professional service to our fantastic looking garage door, it looks brand new, this is a service we highly recommend!!!
Miriam and James - Hamilton // December 2019
June 24, 2020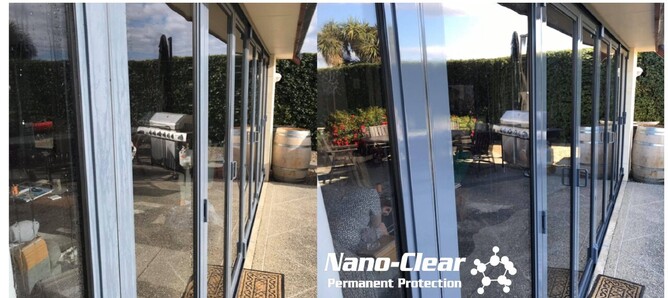 Nano-Clear product was extensively tested in the USA before coming to New Zealand in 2012 and then tested in the conditions here, out performing all other coating products on many tests including QUV resistance, salt fog, water immersion, pencil hardness and abrasion resistance.In a country where t...
read more
Thanks so much for your work!
It was great working with you!
I've even had comments from passing neighbour's commenting on how awesome it looks!
July 2020
Ryan and Courtney W - Hamilton
Went away for the weekend and left the Nano-Clear team alone while the worked on our 20 year old sun bleached alloy window frames. George was fantastic to deal with, gave me an estimate from my photos and measurements.
His workmanship is amazing, the frames look better than new.
The final price came in under the estimate and I highly recommend George and his team to all.
Mr Palmer - Dec 2019 / South Island
George Bridgewater of 'Nano-Clear South Island' was the ultimate professional - from customer consultation through to final application of the product. George's pleasantry & consideration for us while 'on the job' was highly commendable. We are so impressed with Nano-Clear, as a product. The rejuvenation from our highly oxidized aluminium joinery (17 years old), to the 'brand new' look achieved - has obviously upgraded the exterior of our home.
"A highly creditable investment in the value of our house"
Lynne Fegan - Jan 2020 / South Island

A substantial increase in appearance of our used baler and Daniel has gone the extra mile on removing many rusty parts and respraying them to a very high standard.
The complete picture on this complex task exceeded our expectations. Well worth the money!
Peter - AGCO Corporation NZ
September 2019 / Hamilton
"I am thrilled with the results of the Nano-Clear treatment on the external joinery on my home - it looks brand new! A real face-lift! Great work done by meticulous staff."
D. Shannon - Hamilton / January 2020
"Made the house look like new again. I advise all my friends just how good the finished product is and your great service and workmanship."
S. Rusbridge - Hamilton / March 2020
As far as we were concerned carrying out the Nano-Clear treatment on our 15 year old "denim blue" aluminium joinery and garage door was a no-brainer, and what a fantastic result we have, the joinery looks brand new again and adds value to our home not to mention adding longevity to the life of our joinery. Our neighbour in the adjoining townhouse immediately upon seeing our garage door "Nano-Cleared" asked for theirs to be done too. I would like to highly recommend Ryan from Nano Clear Auckland who carried out this job, he is professional and friendly in his approach to a new Client, provides all info required and offers to carry out a sample on your home prior to final approval and go ahead. He even offers affordable payment plan options which we gladly accepted. The photos attached are proof in themselves of the fabulous results that can be achieved in a short space of time, we are very impressed indeed.
Donna - Auckland
March 2019
From initial contact through to an end result, George and the team at Nano Clear South Island were friendly and highly professional.
"We are extremely pleased with the results and would not hesitate to recommend their services"
Rob Comer - September 2019 / South Island
"We have tried numerous coatings to prevent the breakdown of our forklifts when they enter corrosive environments.
"Nothing comes close to the protection Nano-Clear can provide us"
Brett - South Island Forklifts

Thank you so much for doing my garage door that after 14 years looks like new again.
It was a very quick and painless procedure.
Many neighbours have commented on how good my garage door looks now.
Thank you so much!

Margaret - Flagstaff / Hamilton
November 2019
​Reviving colour and gloss on commercial signage
"Nano-Clear has saved me thousands of dollars. Getting my first branding painted was very expensive and a lot of time went into masking and painting the two colours. When it all faded, I thought I'd have to pay all that money to have it done again. But Nano-Clear brought the colour back to reflect its original shine and depth, to maintain the professional image I like to keep. It was only about half the price of what I paid originally, plus it's guaranteed to last longer than if I had repainted it. I'm 100% happy with the outcome and would recommend this to anyone."
Deane Mark, Te Awamutu
Fast, friendly, professional and clean work.
Thanks Shaun, very happy with my garage door now.
Leon L - Wellington - October 2019

Brought up the existing colour really well, we are very happy with the job!

Peter and Yvonne - Morrinsville
March 2019
I can't rave more about George, his customer service and his products.
Amazing job done, my house is 15 years old and looks like new.
Highly recommend.
Extremely happy customer - Thanks so much George and team your amazing :-)
Rani Rangimoekau - Nov 2019 / South Island
We had all the joinery treated with the Nano-Clear system in mid-July 2019.
It is now October and it looks great. It bought the garage door from dull and faded, to a finish that has the wet shiny look.
The joinery was precleaned on a Friday and the team were back on the following Monday.
A lot of care and attention was used to ensure that only the aluminum was worked on. The brickwork was untouched.
Daniel and Rebekah are friendly and very easy to work with. They explained the process and I knew exactly what they were doing.
I recommend the Nano-Clear system to fix your tired joinery and give it a new lease of life.
Anthony - Huntington / Hamilton
June 2019
Daniel rang me just at the right time, as we were about to embark on a major refurbishment of our Hotel. While at this stage, we have yet to start the Nanoclear works, what we have seen has impressed us enough to consider the Nanoclear system in other areas of the Airport operations. Look forward to the results - June 2019
Great Work from Daniel and Rebekah. Couldn't recommend their service high enough!
- June 2020
Dion Merson - Hamilton Airport / Jet Park Hotel
People in the village are very impressed with the overall result.
It was a great pleasure to work with you and can only recommend your product and service.
Good luck with your business.
Thomas - Netherville Retirement Village - Hamilton / January 2020
Really great job done by Ryan, our very tired windows look like new. Thank you so much !!!
Gary - Auckland
Sep 2018
"We engaged Shaun Jamieson and Nano-Clear to refresh our deck balustrades after meeting him at a Wellington Home Show. The aluminium balustrades had become faded and tarnished over a number of years. Shaun provided a quote for a full clean, paint and "Nano-Clear" surface protect service. We are thrilled with the end result. The balustrades are now back to their original colour, finish and sheen. They have a new fresh look again that is just wonderful.
What was quoted for was delivered in full plus some. Shaun encountered some challenges in completing the work but still stuck to the original quote. There were no additional costs or hidden expenses. For us it was a pain free process and service. We have no hesitation in
recommending Shaun and Nano-Clear services".
Bill H & Christine H-K -- Wellington
Siafu attended this year's Lower Hutt Home Show to find ways to refresh the presentation of their house.
Their aluminium joinery had become faded due to sun exposure, joinery exposed to the extremes of weather can lose its appearance and value.
Siafu came across Nano-Clear and found that it can drastically improve the appearance of aluminium surfaces, provides superior protection, reduces surface maintenance and ultimately improves asset resale value.
Siafu was impressed with the results after having her joinery and garage door applied with Nano-Clear, she commented,
"The results were incredible! I was really impressed by Shaun's from Nano-Clear Wellington's level of professionalism, quality of work, cost, and timely completion.
Thank you, Shaun, for going the extra mile and making it such a stress-free experience."
Nano-Clear will help reduce the effects of the harsh, extreme natural environment, including weathering, UV and general wear and tear around the home & property.
Siafu - Wellington
We bought a Corolla with a very faded paintjob a while ago. I stumbled across Shaun at Nano Clear who explained what this amazing product is all about. Long story short he covered the car in Nano Clear and this is the result. Worth every cent. Not as expensive as I thought either. Give Shaun a shout at Nano Clear Wellington. Well worth the money and a great guy to deal with.
D Gouws - Wellington

April 2019