Nano-Clear is a premium protective coating.
Fixing oxidized faded surfaces and bringing them back to life.
Extending the life, look and value to your asset.
Nano-Clear specialises in rejuvenation of damaged, faded and oxidised surfaces including window joinery, garage doors, roofing, fences, louvres, gates, vehicles, boats, industrial equipment & more in both residential and commercial settings.
Our applicators understand paint systems and are specifically trained in its application.
Our teams work with property managers and machinery manufacturers around the world for the protection of property, industrial equipment inc. excavators, trucks, vessels, coastal/marine, property assets and more...
Nano-Clear Your Best Choice Surface Protection!
Why Nano-Clear is your best choice:
Nano-Clear can be applied to many different surfaces; joinery, vehicles, machinery, signage and more....
Chemical and solvent resistant
Dramatically rejuvenates the original colour and gloss levels to your surfaces
Full gloss / Semi-gloss / Satin / Matt finishes
Long-term UV protection
Scratch resistant - 6X harder than paint
Graffiti is easily removed
Reduces cleaning by 50%
Sprayed-on application
5 Year warranty
10+ years protection
Extends the look and life of your asset
We rejuvenate old dull faded joinery bringing it back to its original colour and luster.
We can recolour your joinery too.
Contact Us
Free Consultation
* Your postcode helps us direct you to your nearest team
Are your window frames faded and oxidized?
Do you want to change the colour of your joinery?
Nano-Clear // Winner of the prestigious NACE MP Corrosion Innovation of the Year Award 2019
Click on the tiles below to learn more!
June 24, 2020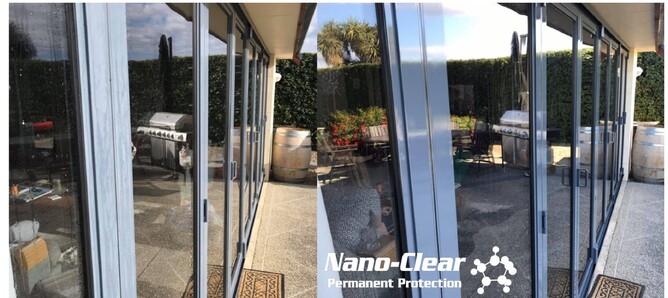 Nano-Clear product was extensively tested in the USA before coming to New Zealand in 2012 and then tested in the conditions here, out performing all other coating products on many tests including QUV resistance, salt fog, water immersion, pencil hardness and abrasion resistance.In a country where t...
read more
A substantial increase in appearance of our used baler. Daniel has gone the extra mile on removing many rusty parts and respraying them to a very high standard. The complete picture on this complex task exceeded our expectations!
Well worth the money!
Peter // AGCO Corporation
Thank you so much for doing my garage door that after 14 years looks like new again.
It was a very quick and painless procedure.
Many neighbours have commented on how good my garage door looks now!
Thank you so much!
Margaret / Flagstaff - Hamilton
George Bridgewater of 'Nano-Clear South Island' was the ultimate professional - from customer consultation through to final application of the product.
George's pleasantry & consideration for us while 'on the job' was highly commendable. We are so impressed with Nano-Clear, as a product.
The rejuvenation from our highly oxidised aluminium joinery (17 years old), to the 'brand new' look achieved - has obviously upgraded the exterior of our home.
A highly creditable investment in the value of our house.

Lynne F - Jan 2020
We were approached by Nano-Clear to revitalize our blue joinery using the Nano-Clear Technology as it had faded due to sun damage.
We requested a colour change as well as the tough Nano-Clear Clear Coating and we were extremely impressed by the 'Impeccable Service' and 'Attention to Detail' from the Nano-Clear / Waikato provided to Tristram Marine.
We would recommend Nano-Clear / Waikato to anyone considering a Joinery Colour Change or for Oxidation Removal and Powder Coating Rejuvenation"
Kingsley Fink - Tristram Marine